Why Do You Need Website Page Speed Optimization?
A website that performs poorly and doesn't meet the user's expectations is a threat to your business. Website page speed optimization is the practice of determining and increasing the speed of your site's pages to load the content on it much faster. With time, as your website evolves and becomes more content-heavy, the relevance of website speed optimization service for your business will only get more critical.
With our expert page speed optimization service, you allow your potential customers to stick around for a long time. Optimal visibility and content accessibility on your website eventually boost your traffic and sales as well. As an online business owner trying to beat the market competition, you cannot overlook the need for page speed optimization. Besides, speed optimization is now Google's ranking factor. If your site page doesn't load quickly, it affects your search engine result page (SERP) ranking.
Some of the factors that influence
your website page speed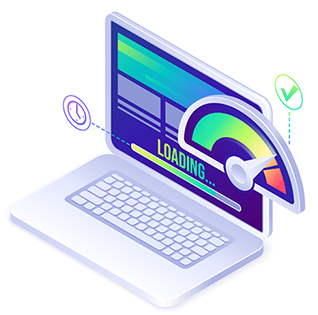 01
The number of images and videos on that page.
02
Type of themes and plugins installed on your website
03
A high number of HTTP requests slows down a web page
04
Not having a content delivery/distribution network will affect the load time.
Our Comprehensive Website
Page Speed Optimization Process

Content Delivery Network (CDN)
CDN is a geographically distributed web server network. By sending your user's server requests to a server located nearest to them, we increase your web page load time. The main server workload is distributed throughout many servers for better site page speed.

Web Image Size Optimization
Heavy images slow down the page speed. As your website speed optimization services in India, we will optimize the image size for faster web page loading. The image will be adjusted as per the user display properties without affecting the image quality.

Reduce the Number of Plugins
Plugins in your site offer certain additional features, but they also slow down the web page loading time as it needs more resources to run. Other than the relevant plugins in use, we will identify and remove all the unwanted plugins for better web page performance.

Database Optimization in CMS
The Content Management System you use contains many complex plugins. By optimizing the database in your CMS, we will enhance your site page speed. The higher your database size is, the slower your site will run making database optimization very crucial.

Prevent the use of Web Fonts
The web fonts that you use in website design also slow down your website page speed. Web fonts add extra HTTP requests to external resources. We will ensure you use modern formats & existing character sets that support your website page speed optimization.

Work to Reduce Redirects
Your web page speed is also affected by the website redirects. It happens as the redirect creates additional HTTP requests. We will help you keep the redirects to a minimum & use only those that are essential. It's better if you stop using redirects completely.
Why Opt for Website Page Speed
Optimization Service?

Expert Team
We have a team of highly experienced and skilled professionals who knows what any business needs. We will carry out a detailed analysis of your site and brainstorm solutions to improve your web page speed. You can rely on our experts to get the job done.

Customer-oriented
When you hire us your convenience is our number one priority. We will discuss our strategies with you from time to time to ensure that you are on board with our plan. Our prime goal is your satisfaction & following the top working processes to meet your needs.

Budget-friendly Prices
When you look for a website speed optimization service in India, you sure have your budget in mind. WillShall offers web page speed optimization at affordable prices that suit your pocket and does wonders for your website performance and overall business growth.

Proven Results
Our experts are committed to facilitating you with strategies that don't just seem productive but bring results. Over the years, we have been assisting businesses to fix errors in their website and improve their ranking, customer satisfaction, & conversion rate
3 Things to Know About Website
Page Speed Optimization

Website Page Speed Matters
The advantages of building an email list for your website are highly appreciable. With an email list, you can connect with your customers directly and quite convincingly. Our experts will help you gather all the relevant leads from your website and turn them into subscribers who are genuinely interested in the product or service that you offer.

Website Page Speed Affects Business
Having a defined marketing goal is necessary to create and send out targeted emails. Once you know what precisely you want to obtain from your email marketing campaign, strategizing becomes more effective. Ideally, your goal must be to spread brand awareness, grow engagement, and lead generation and nurturing.

Website Page Speed Can be Fixed
After you figure out that your web page loading time is slow, you need our expert page speed optimization service. We follow proven and productive strategies to ensure your web page speed is optimum for your customers to surf around the pages conveniently. Your page speed performance could be affected by numerous factors. We will identify and fix these issues once and for all.
Hire us today for our top page speed optimization Services!