On Page SEO Services
Drive More Traffic to your website
Are you eager to attain high-quality traffic to your website? As the leading On Page SEO Company, we offer exceptional On Page SEO Services. We curate innovative yet reliable strategies with a team of skilled and experienced professionals. It is vital to understand that quality of the traffic matters as it can lead to more conversions and more customers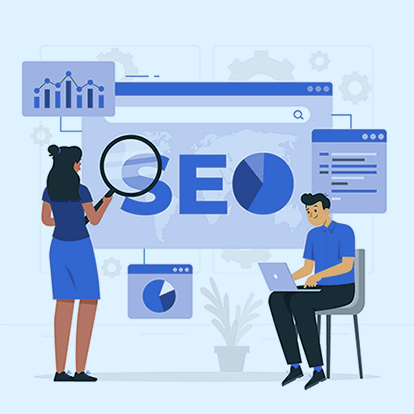 What is On-Page SEO?
On-page SEO is the optimization of the webpages or a website in order to improve their ranking on the search engine result page. It is an excellent way to attain organic traffic. If you are eager to establish credibility or make your business appear in the search result, on-page SEO is crucial. There are various ways one can improve the on-page SEO of a website.
For instance, the inclusion of the target keyword or phrase within the first 100 words can make a big difference. Moreover, using HTML tags and formatting the article or blog properly is essential for On Page SEO Optimization. Using external links, creating user-friendly URLs, and maintaining keyword frequency can also aid in optimizing the website.
A Check List on On-Page SEO
Putting efforts into the on-page SEO strategies can boost your web traffic, leads, and website's online presence. Here are some of the most important elements of on-page SEO.

Website SEO Audit
One of the most crucial factors that need consideration while creating On Page SEO Strategies is the website SEO audit. You need to conduct a thorough SEO audit to understand more about the ranking signals. The report generated will offer insight into what's working and what needs further improvement. In SEO audit, keyword research, metadata analysis, schema, link analysis, etc., are done. That way, the SEO experts can design a full-fledged SEO plan to help the company.

Website Content Analysis
Website content analysis is the procedure of assessing the content present on the site on factors that contribute to improving its SERP ranking. The primary reason for conducting this analysis is to understand if the content needs modification in order to get noticed by the search engine. Content analysis ensures the site or page is using targeted keywords, meta description, meta title, headings, image alt tags, etc. Based on the report, the experts make changes.

Meta Tags
Another critical on page SEO factor that you need to check is the presence of meta tags. These are sub-section of HTML tags and offer a summary of the page content to website visitors and various search engines. It is vital for every webpage to have a meta tag. However, these are embedded within the HTMNL codes and cannot be seen while opening the page. Keep in mind that apt meta tags will attract more users and drive more traffic!

Technical SEO
Technical SEO refers to the technical factors involved in a website. These play a critical role in improving the SERP ranking of the site. There are various technical SEO factors you need to look out for. These include sitemaps, crawl errors, robots.txt, HTTPS status codes, 404 pages, page speed, keyword cannibalization, etc. Optimization of these different aspects aids in improving the on page SEO of the website significantly.
On Page SEO Tips
On-Page SEO helps the search engines like Google, Yahoo, etc., analyze your website and its content to know if it is relevant as per the searcher's query. Here are some of its benefits: –