Introduction to LinkedIn Ads
LinkedIn Ads is the talk of the hour! If you want your business to thrive in the online market, you need to understand the role of LinkedIn as an advertising medium. Up until now, Facebook advertisements have been very popular and significant for businesses. However, if done right, LinkedIn advertising can prove effective in luring potential customers and also in boosting your B2B campaign.
LinkedIn advertisement strategy is an evolving one that can and has shown promising results over time for business growth. By opting for LinkedIn ads, you are making sure that your business can reap the many benefits it has to offer. For example, increase in conversion rate, lead enhancement, targeting industry-specific customers, and more.
LinkedIn Ads is a paid
advertising campaign that
has been divided into different
types. Some of these are: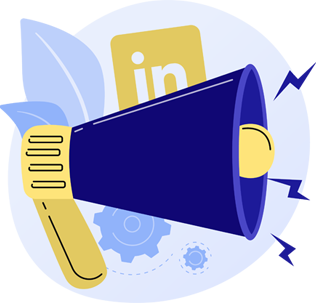 If you are looking for a dedicated LinkedIn Ads
Management company, reach out to us!

Sponsored Content
These are in-feed ads that look just like the standard post but come with a "sponsored" tag. The prime feature of this ad type is an increase in brand visibility.

Sponsored Messaging
The ad content that is sent directly to the user's inbox are sponsored messages. This ad type has a higher success rate than other LinkedIn ad types.

Text Ads
Text ads are like your Google Ads or any other social media ads that are meant to guide your target audience to your website, or a product's landing page.

Dynamic Ads
These are personalized ads for potential customers. Dynamic ads use information about a particular user from their LinkedIn profile to generate the ad.
Our Top LinkedIn Ads Management Services
For those who want to enhance their business's online reach via LinkedIn advertisement, we offer decent LinkedIn ads management services that they can go for.
Tailored LinkedIn Ad Strategies
A custom ad strategy that focuses entirely on your business needs encourages the growth objectives you have in mind. With the ideal LinkedIn ad format chosen by our experts, you can run a campaign that proves most effective for your company in the long run.
Captivating Content Creation
Using compelling content in your ad copies can make a difference in the overall results of your LinkedIn advertising efforts. Our writers will create impactful and bespoke content to engage & influence the users, making them choose you over your competitors every time.
Target Audience Research
The most powerful benefit of Linkedin ads is the ability to sort out your audience precisely and then target. Once we refine the users to figure out whom you should be targeting, your tailored ad strategy becomes even more effective and result-driven.
LinkedIn Ads Monitoring
Keeping an eye on the progress of your LinkedIn ad campaign regularly can offer more room for improvement. Constant campaign monitoring allows you to keep the budget in check and make minor changes in the ad strategy as the market demands.
How Our LinkedIn Ads Service Supports Your Business?
As one of the leading digital marketing agencies, we take pride in bringing you our proven LinkedIn advertising services in India for your business growth.
01
Global Reach
LinkedIn can take your ad campaign as far as it can to reach your potential clients worldwide. It is a great platform to make your business goal connect with various industry experts and entrepreneurs.
02
Advertise to Your Target Group
If you own a B2B business, then there is no better place than LinkedIn to run your ads. Here, you can focus on business groups that you want to by filtering them out by location, industry type, job title, etc.
03
Establish Brand Credibility
One of many reasons for the success of LinkedIn as an advertising medium is brand credibility. LinkedIn is the most trusted place to seek assistance for businesses as compared to other social media platforms.
04
Generate Quality Leads
By targeting the right professional demographics you can generate high-quality leads for your website. Not just this, with the help of Lead Gen Forms, you can also increase the conversion rate on these leads.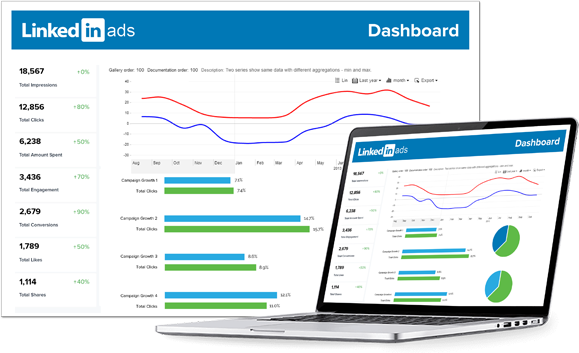 Why Team up with us for
LinkedIn Ads Services?
Our Experience
We are an experienced LinkedIn marketing agency in India that can help with your ad campaign. Our team is familiar with the tips & tricks that are required to take your LinkedIn ad strategy forward. Besides, we can tackle every possible challenge professionally.
Our Ads Packages
We are reliable for our service and are also perfect for your budget. With us, you get genuine LinkedIn marketing packages that are reasonably priced depending on the campaign. You can count on us to help your business grow as well as save some money.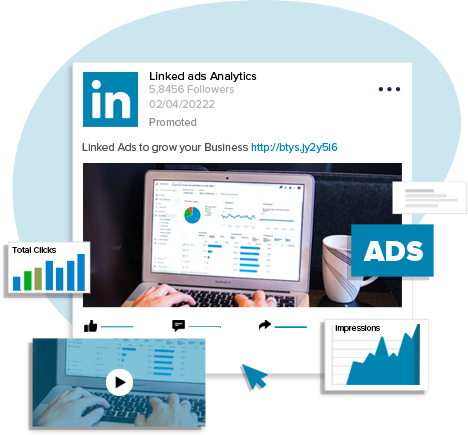 Our Transparency
Our team will ensure that you are involved in the process throughout. Every change in the strategy, every outcome received will be run by you first. It is done so you can be aware of where the ad campaign stands in the market right now and where it is going.
Our Extensive Range of Services
When you choose us for your LinkedIn ad campaign, you are being benefited in more ways than one. Along with LinkedIn marketing, you can connect with us for Facebook ads, Google ads, and more paid advertisement services at affordable rates.