Twitter Ads Marketing Services for Your Business
With time, the dominance of Twitter as a user's favorite social media platform has grown immensely leaving you with an easier and more effective way to showcase your brand. Regardless of the industry, your business serves, with the right marketing strategy, you could be driving more traffic and sales than you ever did!
Twitter ads let you get in touch with new users and power your brand to be their first choice. More than 60% of Twitter users follow small businesses and if you are not using the platform for business promotion, you are missing out on a massive growth opportunity.
We are an experienced and skilled Twitter ads marketing company in India that knows just how to make your business goals come true. Twitter is a simple and direct medium of promotion where you can do more than just grow brand awareness. Let us find out what else makes Twitter ads worthy :

Pay for Results
Promoting your business on Twitter is the safest bet since you pay only when you obtain desired results. The pay-for-performance factor is what makes Twitter ads stand out.

Target Advertising
Identify the audience group interested in your service and target them for better outcomes. Save your time, effort, and maintain a long-term relationship with the customers.

Establish a Brand Community
Connect with your potential audience on a more personal level. Cultivate your brand community and let people with similar fascination join you.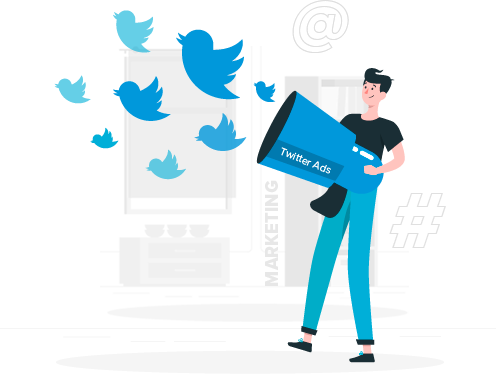 Our Comprehensive Twitter Ads Services
Our team of Twitter ads experts offers full-fledged services that are bound to
bring quality results through your ad campaign.
Target Audience Research
Make your Twitter ads campaign more effective by recognizing the exact audience group to target. We will assist you in making the most of target advertising through Twitter by carrying out extensive audience research.
Content Generation
Interesting, engaging, and informative Twitter ad copy that stands out from the rest accelerates your success rate and helps establish brand identity. Allow our creative writers to generate user-oriented content for your campaign.
Twitter Ads Reporting
Stay in touch with the growth of your ads campaign to find out what's best for your business. At the end of every week, you will receive a thorough report of your campaign's performance to analyze the work and discuss campaign refinement.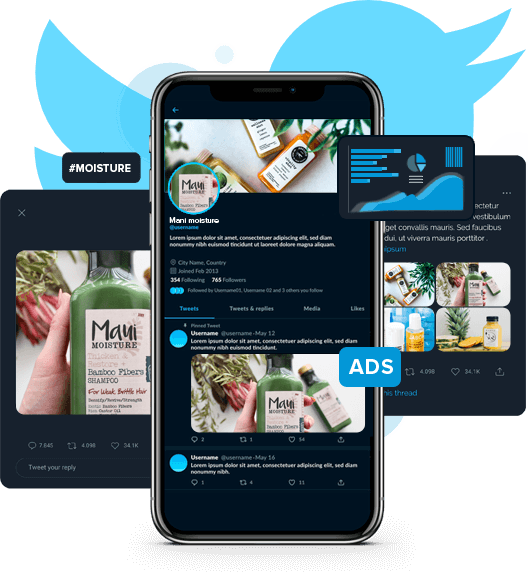 Strategy Development
By employing suitable campaign objectives, we will develop a strategy that aligns with your marketing goals. A flexible Twitter ads campaign tailored to your industry will catch your user's attention and invite them to your website.
Campaign Monitoring
We will keep an eye on your campaign progress to identify areas of improvement, track activities like comments and messages, manage strategy, and more. Depending on the market trends, your campaign needs regular alterations for better productivity.
Competitor Analysis
By examining the success mantra of your competitors, you give your Twitter ad campaign a better chance of growth. Learn the tips and tricks that are proving beneficial to drive traffic and sales and add them to your strategy.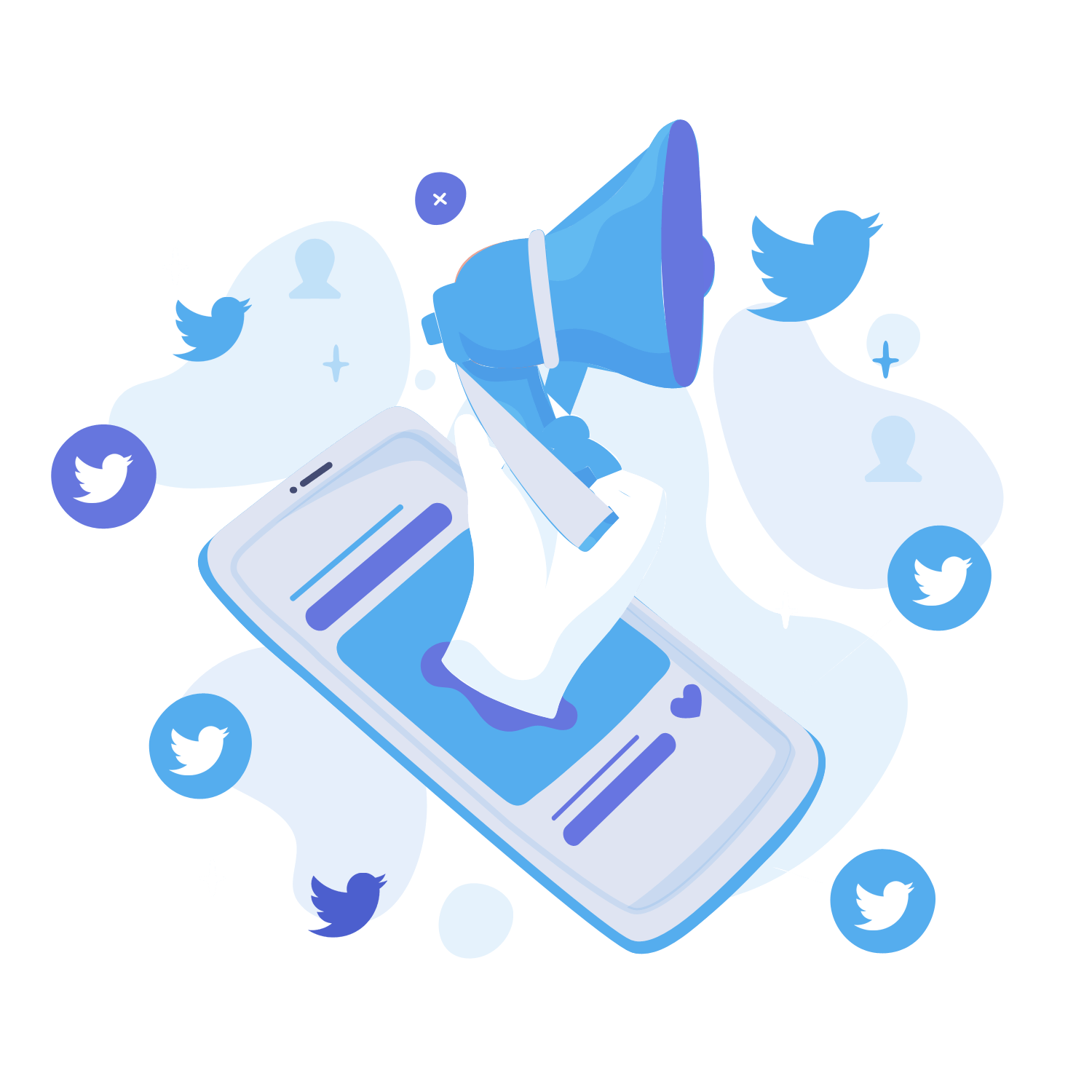 5 Common Twitter Ads
Marketing Mistakes to Avoid
01
Using excessive hashtags without researching their relevance.
02
Failing to keep in touch with the ongoing Twitter trends.
03
Posting at a time when the majority of users aren't active.
04
Following a single-format approach for the ads.
05
Ignoring the need to reevaluate your campaigns.
Hire Us as Your Twitter Ads
Management Company
We are perhaps the best Twitter advertising agency that can get the job done for you. Check out a few reasons why we are your ideal pick!

Sheer Focus
You can count on us to create, execute, and manage your Twitter ad campaign from the start to the end. Our professionals are highly focused and dedicated to meeting your expectations of driving more sales to your website.

Personalized Services
We don't follow a copy-paste trend for our Twitter ads strategy. You will get a well-researched, unique and customized strategy that speaks for your brand. Personalized services will also future-proof your business.

Transparent Reporting
Our reporting methods are 100% honest. We believe in keeping our clients well and truly aware of where their ad campaign stands. Our team will pick out flaws in the strategy with each report and fix them for you.

Competitive Pricing
Don't spend more than you have to and save something off your budget! Our prices are impressively affordable that lets you invest less and draw out more profit. Speak with our experts to learn more about our prices.
Why Capitalize on Twitter Ads?
As of now, Twitter is one of the greatest advertising arenas. The level of interaction users can have through this platform is remarkable. But the reasons that make it substantial for online businesses are far greater than this.
In a market with a vast audience base, Twitter ads let you use keywords to market directly to the customers who mean business, hence saving your time and resources. Besides, the engagement rate of Twitter marketing is pretty high that also makes it prominent for lead generation.
For a small business or a new business looking to build a brand value from scratch, Twitter ads are a perfect way to get going. It is cost-effective, instant, and can increase your brand visibility.